New Radgenic Lead Table Shields from AttenuTech®

11/08/2022 – Lutz, Florida: Those in the medical industry are exposed to so many different elements that can cause harm. The main one is usually related to the chances of getting a disease or getting sick off of another patient while there. However, there are many items out there that can help protect our medical staff from getting sick while they're working, leading them to forget sometimes about the equipment that can also cause damage over time.
This is, of course, all the radiation-based imaging equipment that is meant to enable medical experts to perform MRI scans or x-rays. While only using it occasionally doesn't have the potential to be that harmful, many still provide their patients with lead aprons and other types of protective gear to ensure that only the parts that need to be exposed to radiation are.
Yet for those using the equipment, or not even using the equipment but simply being near that equipment, extra precautions need to be taken for a safe working environment. Constant exposure to all of this radiation-emitting machinery can, in fact, cause permanent long-term damage, which could be easily avoided with the right type of equipment throughout the entire location, like lead table shields for example.
It's not enough to simply have mobile x-ray guards that medical staff can move around when needed. But also important to have protection at the workstations of these medical staff at the same time to ensure constant safety.
Radiation Shielding Pleated Table Shield
Here is a great option that is stationary and provides a lead shield to those that tend to be exposed to radiation continuously. The new Radgenic Radiation Shielding Pleated Table Shield complies with CDC Efficacy guidelines for Category IB, a disinfection protocol critical for those that can be exposed to dirt and disease all the time. This is due to the fact that the shield itself is made with a polyurethane-coated fabric built with an easy cleaning routine in mind.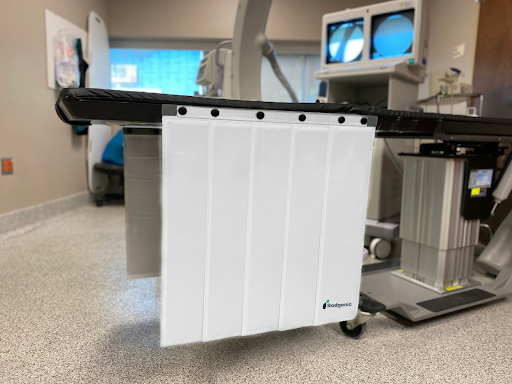 It's also nonporous, so you can use extremely strong disinfectants on the table without concern of harming the table, reducing its efficacy towards radiation, or not being disinfected properly. Finally, in relation to its protection, it has an additional lead core of 0.5mm Pb equivalency, meaning that the constant radiation the area is exposed to will always be blocked by this table.
The Radiation Shielding Pleated Table Shield also comes in four common colors to help match the office and doesn't need to stand out. These colors are green, blue, gray, and a standard white color. Installation of this table is also extremely easy, meaning you can get protection the same day as soon as it lands at your location. This Pleated Table Shield is also quite large, having dimensions of 21.5-inch width with a 24-inch length.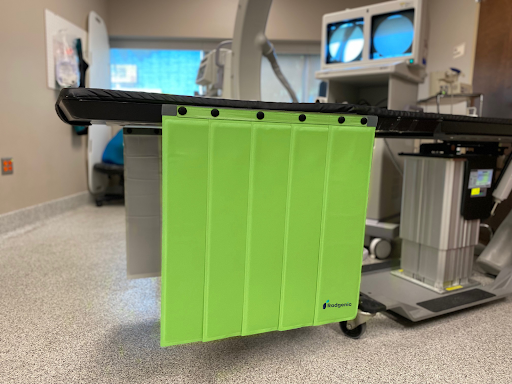 Don't deny your most critical medical staff standardized protection against the equipment they need to use on a daily basis to get the right prognosis. As always, feel free to reach out to any of our staff regarding this table shield or any of our protective products we have on offer, whether it's their protective qualities or how they can be installed.
About Us:AttenuTech® provides radiation protection products for physicians, techs, nurses, and staff who utilize Fluoroscopy for imaging procedures. At AttenuTech®, we are dedicated to implementing the best radiation protection in high-risk surgical environments. With a manufacturing presence in the United States and Europe, we guarantee the highest quality of products and services in the radiation protection industry. We provide affordable and applicable solutions through state-of-the-art technologies and modern equipment. All AttenuTech® products are CE Certified, and manufactured with strict adherence to applicable laws, standards, and regulations, assuring the highest levels of protection, confidence, and quality.Contact Information:
Like us: https://www.facebook.com/attenutech/
Follow us: https://www.instagram.com/attenutech_radiationprotection
Retweet us: https://twitter.com/attenutech
Contact Detail:
Company Name: AttenuTech®
Contact Person: Ryan Phillips
Email: Send Email
Phone No: +1 813-909-8330, 1-800-757-2703
Address: 24008 State Road 54 Lutz
State: FL 33559
Country: United States
Website Url: https://www.attenutech.com/


Source: www.PRExhibition.com